My sister, Mudmama, is a farmer in Nova Scotia. She and her partner are raising goats, chickens, ducks and rabbits, in addition to children, dogs and cats.
And now – insert drum roll here – she has added two sheep to her flock! Not only that, but she named one of her sheep Zoom! After me! (I assume. Then again, I assumed she named her fourth child after my deceased dog, and found out later that no, it was just a coincidence.)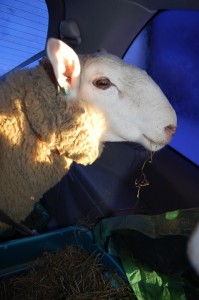 This is a picture of Zoom traveling by minivan to his new home, along with Mudmama, her partner, two of their human kids (not to be confused with goat kids) and an Icelandic sheep named Amos.
Zoom is a Border Cheviot. Apparently he has very springy fleece. He got off to a rough start in life, suffering a nearly fatal experience with an untrained sheepdog, and has a lot of scarring and a bum ankle as a result. On the bright side, he got to live in a house and be a pet because of it, and later on he lived on a fiber farm, and now he gets to live on Mudmama's farm.
I think he looks very mellow and relaxed in the minivan, don't you? They say he's a very good traveler, so I'm hoping they'll bring him along when they come to Ottawa next month.