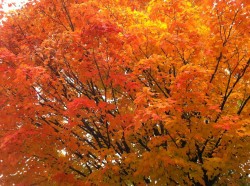 They said it was going to be a drab autumn, on account of the drought, but it was actually quite dramatic.
My friend Nancy says  every autumn has its own dominant colour, and I think this year it was orange.  I don't know if there actually were more orange trees this year or if I was just more inspired to photograph the orange ones.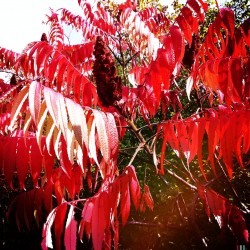 Autumn is such a bittersweet time of year. It's so stunning and gorgeous as it ripens to the peak of perfection, but at some level I always dread the peak because I know how brief it will be. The first blast of wind or rain strips those trees naked, and then everything is stark and grey and cold. (Except we usually do get a brief respite in Indian Summer, which helps psychologically.)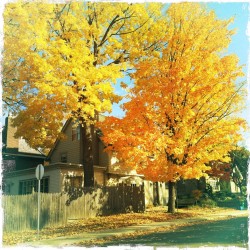 I feel kind of sad for people who live in places where there aren't distinctive seasons.  Here in Canada, winter is grueling, but it's a small price to pay for spring. We live completely different lives in the summer than in the winter. Part of the reason we appreciate autumn so much is because we don't have time to take it for granted.
We change everything with the seasons: our wardrobes, food, drinks, activities, even our decor. And it seems the transition is always welcome, no matter which season we're moving out of or into. We all seem to love that first magical sparkly snowfall in December, even if we almost universally hate winter by February.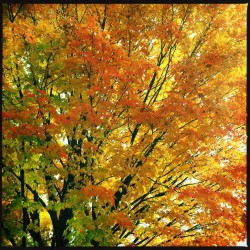 Autumn's almost over, but winter's not here yet. Some of my favourite trees are naked already. November is the only month that seems to fall between seasons.
We'll be moving into the cozy time of year soon. Soups and stews and sweaters and quilts and red wine and curling up on the couch with a good book, a hot cup of something, and a warm cat.
As soon as all the leaves have fallen, I'll be ready to embrace that.