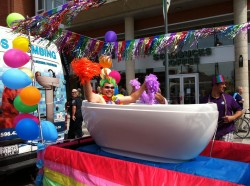 GC and I marched in the Pride parade last weekend! First time for both of us. I was working there and GC volunteered to pitch in. It was a terrific event for people-watching. The people lining the streets to watch the parade were, I think, more entertaining than your average spectators. We were behind the Bruce House hootenanny float, so heehaw!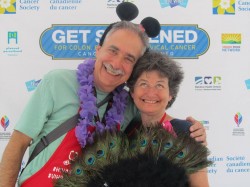 After the parade, we worked at an information booth for a few hours. We were giving away flashing red ribbons and key drives in exchange for people sharing their tips about health and happiness.
As you might expect, a lot of people talked about eating healthy and getting enough exercise. But there were some unique answers too, like eat mangoes, and spend time with rabbits, and drink booze.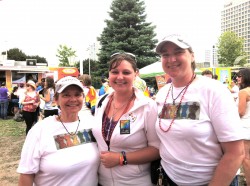 At one point three women came by and I struck up a conversation with them. It turned out that two of the women were the mothers of the other woman. And the mother who had actually given birth to that daughter has four children and nine grandchildren. She didn't look old enough to be a grandmother. (Really she didn't; I wasn't just saying that.) They laughed and told me that when they arrived at the Pride Info Fair earlier in the day, the three of them went to buy drink tickets, and the ticket-seller asked only one of them for ID – the grandmother of the nine children! Her daughter didn't even get carded, just her.
I have to say I was pretty eager to see what she wrote on her healthy/happy living card, because this woman seemed to have discovered the proverbial fountain of youth. Turns out her age-defying secret is lots of sleep and plenty of water.
So what do you think? Which one is the daughter, and which one is the grandmother who has to carry ID if she's hoping to drink?