So here's a crazy thing. GC had to have a medical test a couple of weeks ago as a follow-up to an earlier test a few months ago. The doctor was 99.9% sure everything was okay, but he just wanted to guide a camera through GC's urinary tract to make sure. (Don't worry, the graphic images aren't of that.)
GC was tempted to call the whole thing off a couple of days before the procedure, since everything seemed fine and nobody really wants a camera inserted into their penis. But he's a much better patient than I am, and he rarely cancels or even reschedules anything, so he went through with it. He even said okay when the doctor asked if his resident could perform the procedure, since his resident needed the practice.
The procedure seemed to go okay, but there were complications. Something got nicked. GC was bleeding more than is normal after such a procedure, and by early evening he couldn't pee anymore because there was a blockage. We headed over to Emergency.
You know how Emergency is. Everybody acts like your personal emergency is just another mundane, insignificant event in an endless series of mundane, insignificant events. Your penis is bleeding? Ho hum.
We did see a slight flicker of interest while GC was being triaged. A young couple came up to the triage window and the man said that it was his pregnant wife's due date and she was acting strange and Telehealth thought she might be having a stroke. The triage nurse looked ever-so-slightly more interested in that than he did in GC's penis.
Eventually GC was examined by a urology resident, who said a catheter and an hour of irrigation should clear things up. It didn't, so they admitted him overnight and said he should be fine in the morning after being irrigated overnight. The next morning he still wasn't okay. They kept him till 4:30 in the afternoon, at which point he was declared cured and discharged.
BUT.
An hour earlier, at 3:30 in the afternoon, while sitting in his hospital bed, he suddenly got this weird thing with his foot. It was itchy and tight and it felt like something was tugging on it or like there was a magnet in it, pulling. I took a look. It was on the side of his foot. A red patch about two inches long, with a bunch of tiny blisters.
We called the nurse. She washed his feet in warm soapy water and called the doctor, who changed his antibiotic prescription just in case it was an allergy. They thought it might be contact dermatitis. They said he could go home, but if it got worse to come back.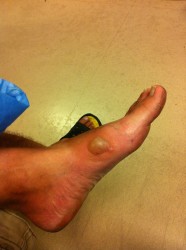 We got home, ate, fed the animals and then took another look at the foot. All the little blisters had joined together and become one big fat blister. And there was a second area, near the heel, that had become inflamed. I sent a picture to Mudmama who said it looked like cellulitis, which can be dangerous.
We went back to Emergency, and waited for hours. This doctor didn't know what kind of infection it was (she said it might possibly be cellulitis) and she broke the blister and sent us home, with instructions to come back if it got worse, and a prescription for another antibiotic.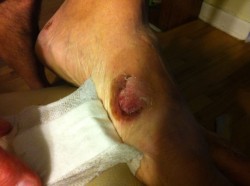 He has since gone to his own doctor, who also doesn't know what it is but who says it might take awhile to clear up. It has been 12 days, and this is what it looks like now.