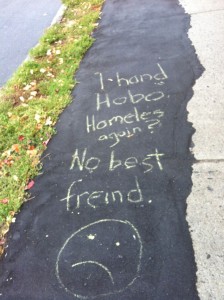 Friday morning I was walking to work along Somerset Street. It was a drizzly morning, so this sidewalk chalk message was probably still fresh yet destined to disappear almost immediately.
As I stopped to take a picture of it, my old friend Mike, who lives on Somerset Street, stepped out of his apartment building. We puzzled over the chalk message together, trying to figure it out. Mike thought he probably meant to write "I am a hobo…"
Whatever it meant, we agreed it was sad.
It wasn't until that evening, when I was downloading the photo from my phone to my computer that I suddenly understood it. The message was written by Henry Cyr, the one-handed homeless slide guitarist, also known as The Only True Blues Man, according to one of my all-time favourite bloggers.
Henry Cyr is a bit of a legendary character on the streets of Ottawa. He used to be a carpenter until he lost his hand in an alcohol & work-related accident on October 6, 1989, and this apparently precipitated a downward spiral in circumstances which has lasted for 24 years now. According to people who know him, Henry Cyr is complicated, creative, industrious, energetic, entrepreneurial, opinionated, stubborn, tough and gritty. He writes songs and plays slide guitar on the streets, with a mug clamped on the end of his stump. He even has a bit of a blog, which he may or may not visit.
Henry can be charming, but he can also be pissy, depending on his mood. Once he snarled at me as I walked past him, something about how I could afford to shop at Eddie Bauer (I was carrying an Eddie Bauer bag) but couldn't give a hobo a dime. Ottawa's panhandlers are usually pretty polite, whether you give to them or not, and I know this because sometimes I do give and sometimes I don't. I didn't give him anything for quite a long time after that, but I'm not proud of it.
There's a good piece about him in this somewhat dated but still interesting article about Ottawa's panhandlers. (The last few pages are about Henry.)
Anyway. I'm sorry to hear he lost his home and his best friend.