The other morning as I was waking up, someone on CBC was talking about a project called ShareThanksgiving.ca. Basically, it's an online matching service, in which host families in Canada are matched with newcomer families (refugees, new immigrants, foreign students, etc.) for Thanksgiving dinner. It started in Toronto last year, and spread across Canada this year.
Naturally I decided to check it out. You know, just to see. However, when I went to the site, part of it didn't load. All I could see was this "Get Started" button, so I clicked it. It asked me a few questions, like my name and email address, so I provided those. Then it asked how many people I could host, and I said one. But I had no intention of actually registering, I was just trying to get deeper into the site so I could learn more about it. When it asked me the ages of my children, I closed the window. I figured I'd have to at least run it by GC before inviting total strangers to dinner.
GC and I talked about it that evening, and GC was concerned it might feel a little awkward, and did it mean we'd have to clean the house? We thought maybe it would turn out to be one of those things that sounded good at the time, but then on the day it was scheduled, you wished you hadn't committed to it. That made sense so we decided not to do it.
The next day I got a message thanking me for registering and telling me I'd get my match the following day. I immediately wrote back and said no, it was all a big mistake, I hadn't meant to register, terribly sorry about the misunderstanding, maybe next year, yada yada yada.
I didn't get a response until the following day, when an email arrived saying they'd found me a match! His name was Thomas and he was a 19 year old physics student from France. The email was sent to both Thomas and me, and I was encouraged to email him to make arrangements.
So, um, this was awkward. I immediately wrote to Thomas and said how much GC and I were looking forward to meeting him on Sunday. I told him who else would be joining us, and I told him what time dinner would be, and I asked if he needed a lift. He wrote back and said how wonderful it all was and he hoped we would be patient with his English and he didn't need a ride, he'd take the bus or his bike.
Sunday morning we popped the turkey in the oven and cleaned the house. Around 4:00 the guests started arriving – my son, Rob's son, my friend Kathryn. But no Thomas. I kept checking my messages, and there was nothing from him. Was he lost? Had he gotten a better offer? Had he not intended to register in the first place?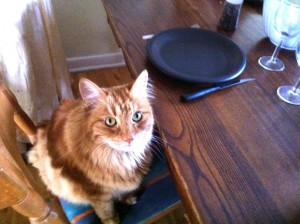 Thomas never did show up, but we had a really good time without him. The ShareThanksgiving.ca site had urged us to take photographs of our Thanksgiving gathering, so here's Thomas's chair and plate.
After dinner we made an extra plate of food up for James' father, who is still in the hospital with his broken neck, and we all traipsed over to the Civic to deliver it.
Thomas called the following afternoon. "Is it today?" he asked.
"No, it was yesterday," I said.
We then had an awkward conversation in which neither of us really knew what to say. I briefly considered inviting him over for leftovers, but it seemed like the window of opportunity for Thomas and me had closed. After I got off the phone I noticed that he was calling from a Toronto area code, so maybe he doesn't even live in Ottawa.
Anyway. I'm happy the house is clean.