GC and I have kind of lived together for years. But our living arrangement has always involved maintaining two houses, with his stuff in his house and my stuff and us and the animals in my house. We want to consolidate so we'll have one mortgage payment instead of two, and one of each bill instead of two. So we're fixing up his house (painting and replacing some flooring and changing some light fixtures and toilets and window coverings) and then we're going to move in there. Then we'll fix up my place and sell it.
Even though we're not doing the actual work ourselves, there's still a lot of work we have to do. Like figuring out what to do, and researching, comparing, planning, thinking, deciding, and shopping. And then we have to find people to actually do the work, check their references, schedule them, communicate with them, supervise them, and pay them.
It's important to do research, but it's also important to stop doing research and make decisions. The law of diminishing returns applies here. There's only so much you need to know about toilets, for example, before you're ready to pick a toilet. Still, it's easy to disappear down rabbit holes of toilet research, and worse yet, to be that person at the Christmas party who is apparently obsessed with toilets. Ahem.
You can spend $79 on a toilet, or you can spend $6,000 on a toilet. There IS a difference. The fanciest toilet we've actually seen with our very own eyes is at Preston Hardware. It's the one that senses you're in the room and greets you by raising its seat in anticipation. You can't NOT pay attention to a toilet like that. It was all I could do not to start a conversation with it. It even comes with a remote control, which is what caught GC's attention.
"But what does the remote control actually control?" asked GC.
Apparently the remote controls things like seat heat and individual preferences for bottom-washing features. Maybe one person likes to have their bottom blasted with hot water and then dried with a cyclone of hot air, while another person prefers a gentler cleansing, and a delicate drying cycle. That's what the remote's for. (Frankly, I can't quite wrap my head around the idea of washing anything in the toilet.)
Anyway, we chose the American Standard Studio Elongated-Bowl Right-Height toilet at about $400 each. We chose it mostly because we had grown weary of toilet shopping, and there it was. But then, a couple of days later, at a Christmas party, a toilet expert told me that I might find the Right-Height toilet the wrong height because I'm short. My feet will dangle, like they did when I was a child.
"You should have done like me and sat on it while we were in the showroom," said GC. (Is it just me? Was I being a prude, or would you also have felt funny about sitting on the toilet in the showroom at Preston Hardware?)
Anyway. We're very research-oriented, but GC and I are not very good at decision-making. Here's what we tend to do. We get a general idea of what we want. For example, say we want white paint for our baseboards and window trim. We go to the store to buy white paint. We discover that there are 50 shades of white. We take 50 paint chips home. We become absolutely convinced that 49 of these are the wrong shade of white and one is the right shade of white, but we don't know which is which. We look at them a lot. We talk about them. We google them. We ask our friends which ones they like best. We discuss the names of the colours and which names we like best. Would you rather be surrounded by Snowfall White or Winter White? Would White Christmas feel all wrong in July? We buy samples of our five favourites and paint little bits of trim in different shades. We decide they all look identical or they all look completely different, or they inexplicably seem to change radically from one moment to the next. We become paralyzed by indecision. We no longer trust our senses.
Finally we meet with the painter and start to go into the whole complicated history of our dilemma. He cuts us off. "Oxford White," he says. "Always use Oxford White."
It's nice seeing it all falling into place, though. At this point, the painting's done (Revere Pewter and Oxford White, an unbeatable combination), most of the floors are done, the blinds are ordered, the light fixtures are purchased, the electrician's booked, the new toilets are being delivered on Monday. It looks pretty damned good.
Now I just need to declutter, pack, move, fix this place up and sell it. (It sounds so simple when I put it like that.)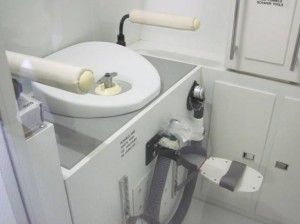 (By the way, this is the most expensive toilet in the world, although technically it's not really in the world. It's the space station toilet. It cost $19 million. It has leg braces to keep people from floating away, and special fans that suck all of the waste into a septic tank that converts the liquids into drinking water.)