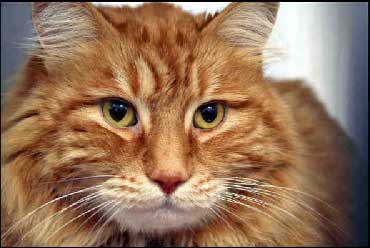 I went to the Humane Society thinking about two brown tabby kittens. Or maybe one delicate little cat for now with the possibility of adding a kitten to the mix later on. Instead, I came THIS close to adopting this lion.
He is, without question, the most magnificent creature at the Humane Society. His name is Fraser, but if I adopt him I will change it to something more reflective of his magnificence.
I got in the adoption lineup three times, but never clinched the deal. Each time I ended up thinking I needed more time to think it through. I blame this in part on my indecisive Libra nature, and in part on the fact that this is an awful lot of cat. Maybe he's too much cat for me.
He's a cat of considerable substance. He weighs almost 25 pounds (10.5 kg). He completely fills up my lap. He's got long hair. He's six years old. He's recovering from dental surgery. He doesn't like other cats at ALL.
But he likes people and children and he seems to like me. And I do like him.
The third time in the lineup I was planning to put down a $20 deposit on him. But then the adoption counselor asked me if I was aware of his grooming needs. I had specifically asked the attendant about this, and she had said once or twice a week he would need to be combed and brushed. The adoption counselor said no, it would be once every day or two for fifteen or twenty minutes (possibly longer if he'd doesn't like being groomed).
I don't know if I can commit to a cat whose hair needs more care than my own.
I thought about this on the way home.
"I don't know if I'm ready to make such a monumental commitment," I said.
"You raised a child," I replied.
"Yes," I acknowledged, "but he wasn't an especially well-groomed child."
"True," I conceded, "but he was a well-loved child."
I couldn't argue with that. I did raise a well-loved scruffy little urchin. Maybe I can raise a lion.
What do you think? Should I get this guy? Or should I wait for a smaller, less hairy, less substantial, lower-maintenance cat?
Tags: