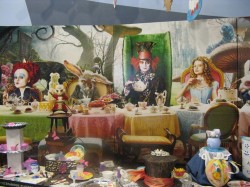 GC and I won tickets to go see the advance screening of Tim Burton's Alice in Wonderland last night. (Thank you, Penguin Canada.)
Going for free is a treat, but it isn't as easy as paying to see a movie. First there's a lineup to get your pass converted to a ticket. Then there's a lineup to get into the theatre area. Then there's a lineup to get into the theatre. (Throughout all this, you're not even guaranteed a seat, because there are more passes than there are seats. Kinda like flying.)
Before entering the theatre, we had to surrender our cell phones and cameras, to prevent us from recording the movie and putting it on youtube or something. (Why would anyone do that, anyway? It sounds like an awful lot of trouble for nothing. And wouldn't it be blurry, since it's a 3D movie?)
Once inside the theatre, there was a draw in which three people were selected to go up front and answer trivia questions about the movie, sing, and win t-shirts.
And then, finally, an hour and a half after we got there, the movie started!
GC and I recently read Alice and Wonderland, and this movie isn't that book. This one's about Alice returning to Wonderland as a young woman. The story is okay, but nothing spectacular.
Maybe it was because we were sitting so close to the screen (fourth row), but I had mixed feelings about the 3D effects.Or maybe it was because the 3D was added post-production, as an afterthought. When it did work, though, it was quite impressive – for example, in the very last scene, there's a butterfly, and I literally reached out to touch it.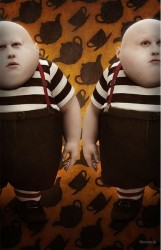 Despite the lackluster storyline and questionable special effects, I loved this movie. The characters were wonderful, and I was charmed by them. There were so many characters who made me laugh out loud. The White Rabbit, the Cheshire Cat, the bloodhound, the Mad Hatter, the wise old hookah-smoking blue caterpillar. My absolute favourites were the lovable and hilarious Tweedle-Dee and Tweedle-Dum, or as the Red Queen called them, "My fat boys." These two alone are worth the price of admission.
If you do go see Alice in Wonderland, I'd love to hear what you think.