A naturopath recently told me I should eat nut butters.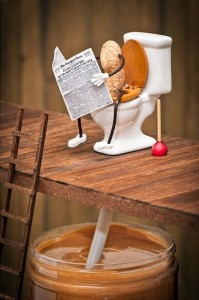 I hate peanut butter. Even the smell of it makes me gag. One time my mother married someone who loved peanut butter. We had meat and potatoes for dinner every night, and he always had to have a stack of white bread and a jar of peanut butter on the dinner table.
Once he offered me a dollar to eat a spoonful of peanut butter. A dollar was a lot of money. You could buy a box of Smarties for a dime back then. I managed to get the spoonful of peanut butter into my mouth, but I threw up in the sink before I could swallow it. (He didn't give me the dollar.)
In addition to hating peanut butter, I also hate peanuts and, until recently, all nuts. (I'm not sure I gave "all nuts" a chance, though. I probably tried a couple different kinds, hated them, and then lumped all nuts together.)
So I was not keen on adding nut butters to my diet. But I bought a jar of almond butter for $9, spread some on some whole-grain melba toast, and ate it. I didn't like it, but at least I didn't throw up. Maybe it's an acquired taste. I'm trying to acquire it.
---
In related news, my doctor called me in recently because I have very high cholesterol and triglycerides.
My first reaction was to try to convince her that the high numbers really aren't my fault – they're side effects of the medications I'm on. While this is at least partly true, it's not like she can somehow rule in my favour and spare me the consequences of my high cholesterol and triglycerides.
Since I have only this one risk factor for heart disease, she referred me to a nutritionist instead of prescribing cholesterol-lowering meds. She thinks I can do it with lifestyle changes. Apparently 80% of your cholesterol is manufactured by your liver, and 20% of it is controllable through lifestyle.
I kept a journal of everything I ingested for a week. The nutritionist said my breakfasts are perfect. She was also impressed by some of my dinners, including Jennifer's Artichoke, Kale and White Bean Fettucine. (She was less impressed by the Quarter Pounder with Cheese, the two skipped meals, the Boston Cream donut, the cream in my four daily coffees, and the three Diet Cokes I had that week.)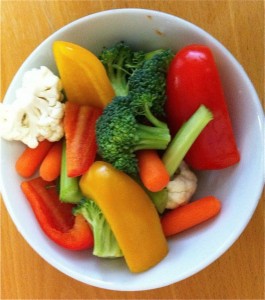 Here's what she wants me to do for the next month till I see her again:
1. Get some exercise every day.
2. Bring my lunch to work on Mondays. (We'll add more days later.)
3. Drink just two cups of coffee per day. (The problem isn't the coffee, but the cream and sugar.)
4. Eat more veggies!
5. Add a morning snack and an afternoon snack.
6. Drink more water.
This reminds me of that book about blogging entitled Nobody Cares What You Had for Lunch. Even though I'm currently obsessed with healthy food choices, I will try not to blog about roughage.